MAJOR ANNUAL EVENTS
Annual Splash House
Asserting itself as a flagship summer event in Southern California, Splash House has become a staple on the West Coast festival circuit. Defined by desert landscapes, eclectic live and DJ programming, and a community of devoted followers, it is the perfect weekend escape for the musically minded.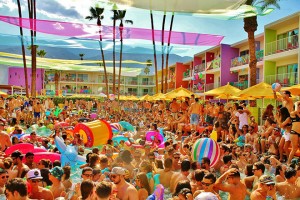 Playing host to many future stars in a singularly boutique environment, attendees have always been treated to a forward thinking roster of what is next in electronic music. Flume, Kaytranada, Thomas Jack, and Kygo have all played and partied under the Palm Springs sun before moving onto international popularity. While others such as RAC, Eats Everything, Cashmere Cat, Tokimonsta, Claude VonStroke, Shiba San and many more have enjoyed Splash House's intimate desert vibes. Held in August.
Viewweb site: http://splashhouse.com/
Idyllwild Jazz in the Pines
The Idyllwild Arts Foundation proudly presents the annual Jazz in the Pines Festival featuring over two dozen bands. Performers and fans of jazz, blues, and R&B have a breathtaking mountain campus to themselves after the departure of the Idyllwild Arts Summer Program's thousands of arts-lovers and before the first semester of the Foundation's residential high school, Idyllwild Arts Academy. Held in August
View website: http://www.jazzinthepines.com/
Palm Springs Women's Jazz Festival
L&G Events is proud to announce the return of The Palm Springs Women's Jazz Festival. The Festival features over 30 national and international celebrated female jazz musicians. This three day, world-class lineup in women's jazz comes to the Coachella Valley from around the world to showcase their talent. Help in September.
View website: http://lucyandgail.com/
Joshua Tree Music Festival
The experience is enhanced when embraced in the great outdoors amongst fellow music lovers. Better still in an intimate setting, where the distinction between artist and audience is blurred, and a passionate performance can be truly relished in close proximity to the stage. Add FREE water to patrons, no service charges on reasonably priced tickets, and well…..let the games begin. A family friendly global music experience. Held in October.
View website: http://www.joshuatreemusicfestival.com/
Modernism Week Fall Preview
This year's Modernism Week Fall Preview will feature a selection of the best events from the February festival, including architectural walking and bike tours, festive cocktail parties, home tours, stimulating lectures, the not-to-be-missed Premier Double Decker Architectural Bus Tours, classic cars, the Modernism Show & Sale, tours of Sunnylands, and more. Held in October.
View website: http://www.modernismweek.com/
Annual Tram Road Challenge 6k Uphill Run and Walk – Make a Difference Day
For 30 plus years, runners and walkers from around the world have been taking on the challenge. Participants climb 2,000 vertical feet in just over 3.7 miles. All finishers receive a customized finishers medal. United Way of the Desert – In conjunction with Make a Difference Day, the Tram Road Challenge will benefit the United Way of the Desert. You are encouraged to make a difference in the life of others by asking your family and friends to sponsor your participation in the race. Held in October.
View website: http://www.kleinclarksports.com/tram
Greater Palm Springs LGBT Pride
Known for its crystal blue skies, year-round sunshine, stunning landscape, palm tree lined streets and starry nights the City of Palm Springs comes alive during the annual Coachella Valley Pride celebration. Rainbow flags and glitter will fill the streets as the ever present Mount San Jacinto Mountains star in the most scenic pride parade and festival in the world. The downtown parade steps off at 10 a.m. Sunday and travels along historic Palm Canyon Drive. The two-day festival is free. Held in November.
View website: http://pspride.org/
Rancho Mirage Art Affaire
This spectacular two-day event is a juried fine art and music festival featuring 100 award-winning visual artists in a variety of artistic mediums, including painting, sculpture, ceramics, jewelry and other artistic originals. The best of Smooth Jazz and other music will be presented on stage Saturday and Sunday. Held in November.
View website: http://www.ranchomirageca.gov/art-affaire/
Festival of Lights Parade
A much-loved holiday tradition in downtown Palm Springs. Featuring a host of marching bands, performing groups, and of course Santa and Mrs. Claus. Presented by the City of Palm Springs. Held in December.
View website: http://visitgreaterpalmsprings.com/visit/events/signature-events/
Indio International Tamale Festival
Food Network ranked the Indio International Tamale Festival in the top 10 "All-American Food Festivals" in the nation. The festival is a special occasion that kicks off the holiday season bringing the entire community together. More than 300 vendors will be featured plus a tamale eating contest, five stages of live entertainment, wine and beer gardens. Attendees will be able to sample a wide variety of tamales, from traditional recipes to vegan and vegetarian. Held in December.
View website: http://www.tamalefestival.net/
Annual Palm Springs International Film Festival
One of the largest film festivals in North America, welcoming 135,000 attendees each year for its lineup of new and celebrated international features and documentaries. The Festival is also known for its annual Black Tie Awards Gala, honoring the best achievements of the filmic year by a celebrated list of talents who, in recent years, have included Ben Affleck, Cate Blanchett, George Clooney, Daniel Day-Lewis, Leonardo DiCaprio, Clint Eastwood, Sean Penn, Brad Pitt, Natalie Portman, Charlize Theron and Kate Winslet. Held in January.
View website: http://www.psfilmfest.org/
CareerBuilder Challenge
The tournament includes 156 professional players. Pro-Am play for first 54 holes. Each of the 156 pros will play with a different amateur partner each day on different courses for three days. On Sunday, the low 70 professionals and ties will play the final round of the 72-hole PGA TOUR tournament. Held in January.
View website: http://www.careerbuilderchallenge.com/
Tour de Palm Springs
An event designed to raise money for local nonprofit organizations. Palm Springs' famous weather, gorgeous scenery and thousands of bike riders make the Tour de Palm Springs a fundraising event like no other. Held in January.
Viewwebsite: http://tourdepalmsprings.com/
Palm Springs Fine Art Fair
A three day premier art event in the Southwestern United States. Over 60 galleries exhibiting works from over 300 artists all under one roof representing paintings, sculpture, photography and other visual arts. Don't miss what 14,000 people called "The Arts Event of the Year" in Palm Springs. Held in February.
View website: http://www.art-palmsprings.com/
Annual Riverside County Fair and National Date Festival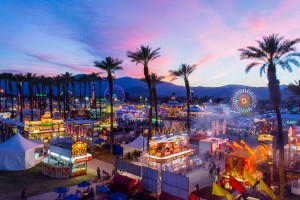 Visit the first county fair of the year. There is a nightly musical pageant, headline entertainment, Monster Truck and BMX shows, camel and ostrich races, date and produce displays, arts and crafts, carnival rides, and great fair food. Concerts are included with fair admission. Carnival open until midnight on weekends. Held in February.
View website: http://www.datefest.org/
La Quinta Arts Festival
Ranked #1 Fine Art Festival in the Nation, La Quinta Arts Festival is held on the spectacular grounds of the La Quinta Civic Center Campus, a short drive from legendary Palm Springs, California. La Quinta Civic Center Campus is a life-size picture postcard framed by majestic mountains, lush green lawns, and fountain lakes — a magnificent outdoor gallery extolled by Art Fair Sourcebook as, "The most stunning festival site in the country."
Hosting 220 of the foremost contemporary artists in the nation, this four day event guarantees its patrons an unparalleled cultural experience with amenities that include daily music, performance art, and trendy food concessions in upscale Restaurant Row, plus craft beers and fine wines. A great value Multi-Day Pass allows festival patrons to return for multiple visits. Held in March.
View website: http://www.lqaf.com/cultural-events/la-quinta-arts-festival/
El Paseo Fashion Week
Showcasing the newest collections by top designers as well as fresh ideas by emerging designers. Fashion, parties, accessories, trunk shows, exhibitions, runway shows, and more. Held in March.
View website: http://www.fashionweekelpaseo.com/
BNP Paribas Open Tennis Tournament
The Indian Wells Masters, also known as BNP Paribas Open due to sponsorship reasons, is an annual tennis tournament held at the Indian Wells Tennis Garden in Indian Wells. The tournament is a Masters 1000 event on the men's tour and is a Premier Mandatory event on the women's tour.The tournament is played on hard courts and is the best-attended tennis tournament outside the four Grand Slam tournaments. Held in March.
View website: http://www.bnpparibasopen.com/
LPGA ANA Inspiration Championship
The best women golfers in the world are coming to compete in Golf's First Major tournament at Mission Hills Country Club in Rancho Mirage. The competition will be fierce for the $2 million purse, coveted Dinah Shore Trophy, the famous jump in to Poppy's Pond and the honor of wearing the coveted Champion's white robe. Children 17 and under get in free with a paid adult. Held in March/April.
View website: http://www.anainspiration.com/
Coachella Valley Music & Arts Festival
An annual two-weekend, three-day music and arts festival featuring many genres of music, including rock, indie, hip hop, and electronic dance music, as well as art installations and sculptures. Across the grounds, several stages continuously host live music. Stay tuned for updates on the lineup. Held in April.
View website: http://splash.coachella.com/
White Party Palm Springs
The largest gay dance party in the World. DJs, live performances, pool parties and more. Visit the website for complete details and party locations. Held in May.
View website: http://www.jeffreysanker.com/
Palm Springs VillageFest
Every Thursday evening in downtown Palm Springs, enjoy a diverse array of artists, artisans, entertainers, assorted fruits, vegetables, fresh flowers, jewelry, international cuisine, and don't forget the sweets.
View website: http://villagefest.org/
COD Alumni Street Fair
Open-air shopping at its best. Open from 7 a.m. Saturdays and Sundays all year. Bargains galore. A great way to start your day.
View website: http://codaastreetfair.com/content/home.aspx