Palm Springs
Astonishingly beautiful. Utterly relaxing. Extraordinary architectural design. Surprisingly affordable.
Palm Springs is the capital of desert cool. The famous (and rich) have an on-going love affair with this city, starting back in the day when the Rat Pack ruled this roost. Today, it's an eclectic blend of midcentury modern classic vintage against a backdrop of ethereal mountains and desert, all under a bright blue sky. Flying into the outdoor Palm Springs International Airport (PSP), with its relaxed vibe, mountain view (and five minutes from all the downtown action) is almost as fun as driving in through the field of windmills to arrive at the city's distinctive visitor center.
Downtown is the heartbeat of Palm Springs, a walkable main street with hundreds of art and antique shops, vintage and trendy clothing boutiques and classic modern home furnishings shops mixed in with casual eateries. The sophistication of this city, however, becomes apparent when dining in the upscale chef-owned and inspired restaurants, many under olive trees and night stars. The stylish boutique hotels and unique home rentals appeal to a young at heart clientele, bringing along children, friends….and dogs.
Artists and artisans, entertainers and fresh food vendors appear every Thursday night in the heart of the city to create a weekly Villagefest, an evening street fair that visitors of every age come back time and time again to enjoy. Even the cities two downtown art museums are free on that evening, so skip the car and ride the BUZZ, Palm Springs's newest darling. An adorable trolley that rides up and down Palm and Indian Canyon Drives, it's meant for visitors and residents to eat, drink and shop…not worry about driving or parking.  So get your BUZZ on from 11 a.m. until 1 a.m. every Thursday through Sunday.
There are reasons to celebrate all year, and the unique events happening throughout the year let you do just that. Film festivals are de rigeur, including the Palm Springs International Film Festival and continuing with five more throughout the year. Modernism Week and Walk of the Inns illustrate the ultra-cool, yet intimately romantic, nature of Palm Springs. This city loves its' parades, and the Festival of Lights, Palm Springs Pride and Veteran's Day bring everyone downtown to honor and celebrate.
Hiking the pristine Indian Canyons, soaring up the cliffs of Chino Canyon's granite walls on the Aerial Tramway, and soaking up the cool and kitschy history on a celeb or architecture tour is just the beginning. Splash your way back to the pool at the end of the day and you'll remember what relaxed actually feel like.
Come play in Palm Springs at VisitPalmSprings.com.
---
La Quinta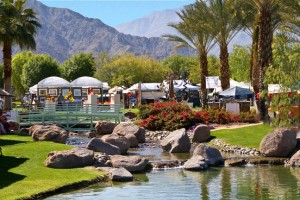 Surrounded by the rocky red peaks of the Santa Rosa Mountains, La Quinta feels like an oasis all of its own. Just 25 miles east of Palm Springs, the Gem of the Desert is a family-friendly town that offers something for everyone. Gorgeous hikes, championship golf, boutique shopping and creative dining experiences are just a taste of what awaits you in the laid-back city of La Quinta.
La Quinta is well known on the golf circuit as the host city for the CareerBuilder Challenge, official PGA TOUR event, an annual professional and celebrity golf tournament formerly known as the Bob Hope Classic. Even if you're not a pro, you'll enjoy the challenging Arnold Palmer, Jack Nicklaus and Pete Dye designs as you tee off against the majestic Santa Rosas.
Speaking of the Santa Rosa Mountains, you can best enjoy these stunning peaks by hiking into La Quinta's desert landscape. Several trails at the top of the La Quinta Cove offer a natural escape, whether you're looking for a leisurely walk or an all-day trek. You can even hike to Lake Cahuilla, a 710-acre park and campsite with a sparkling lake that's perfect for a day of fishing, picnics and summer swimming in the public pool.
You'll find plenty of green spaces throughout La Quinta, offering barbecue pits, dog parks, tennis courts and even skate parks, all beckoning you to come outside and soak up the desert sun. Civic Center Campus is a local favorite for its water features, winding walking paths and spectacular public art, including a 9/11 memorial featuring a beam from the World Trade Center. In March, the park becomes a cultural wonderland as hundreds of contemporary artists showcase their works during the annual La Quinta Arts Festival, ranked the #1 Fine Art Show in the Nation by Art Fair SourceBook.
A trip to La Quinta isn't complete without a stroll through Old Town La Quinta, a charming Spanish-style plaza filled with boutiques, wine bars and restaurants.  When it comes time to dine, you'll find La Quinta offers a balance of fine and casual dining experiences. From Mediterranean plates to quintessential California cuisine, La Quinta offers innovative dining concepts to please every palette.
So what are you waiting for? Come explore the Gem of the Desert for yourself.
---
Indian Wells
Known for its breathtaking setting, luxurious resorts and amenities, and premier sporting and cultural events, Indian Wells offers plenty of opportunities for fun, enrichment and relaxation.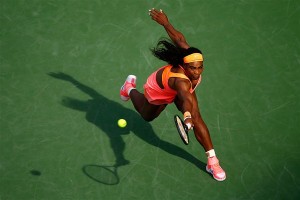 If tennis is your game, join the more than 450,000 fans, and growing, at the Indian Wells Tennis Garden every March for the annual BNP Paribas Open. Watch the world's top men's and women's players square off during two weeks of thrilling competition while you enjoy nonstop festivities ranging from casual to fine dining and live music to player autograph signings, exciting promotions and so much more. Every spring, the 55-acre venue also plays host to the Indian Wells Arts Festival, a picturesque artisan village featuring more than 200 artists, as well as the Desert Lexus Jazz Festival featuring internationally renowned musicians and vocalists.
For the ultimate golf experience, be sure to book a tee time at the Indian Wells Golf Resort, a legendary public access facility featuring two championship 18-hole courses ranked among the top courses in California. Stop by the VUE Grille and Bar in the Golf Resort's richly appointed clubhouse, a favorite of local golfers and visitors alike for its vibrant happy hour scene and superb cuisine, plus panoramic terrace seating overlooking unparalleled mountain and fairway views.
You'll discover four of the Coachella Valley's finest hotels conveniently situated within a short walking distance of the Indian Wells Golf Resort. The Indian Wells Resort Hotel, first owned by Hollywood icons Lucille Ball and Desi Arnaz, combines midcentury charm and elegance with several modern amenities. The Well Spa at the Tuscan-inspired Miramonte Resort & Spa consistently ranks as one of the top resort spas in North America according to Conde Nast Traveler. The Hyatt Regency Indian Wells Resort and Spa features seven free form pools and a range of accommodations including high-end villas with personal butler service, while the Renaissance Indian Wells Resort and Spa is known for its stunning atrium and lobby bar and oversize pool, complete with a sandy beach entry. The Renaissance Indian Wells also serves as the venue for one of the country's most prestigious speaker series where world leaders and luminaries take the stage to enlighten audiences on some of the world's most pressing issues. Past speakers have included President George W. Bush, British Prime Minister Tony Blair, United States Secretary of State Condoleezza Rice, author Malcolm Gladwell and astrophysicist Neil DeGrasse Tyson.
And make sure to include The Living Desert Zoo on your Indian Wells itinerary. Dedicated to the preservation of desert plants and animals, this 1,200-acre park spread across Indian Wells and Palm Desert captivates visitors of all ages.
For a taste of the best that the Southern California desert resorts have to offer, put Indian Wells on the top of your list for your next vacation or business meeting.
---
Palm Desert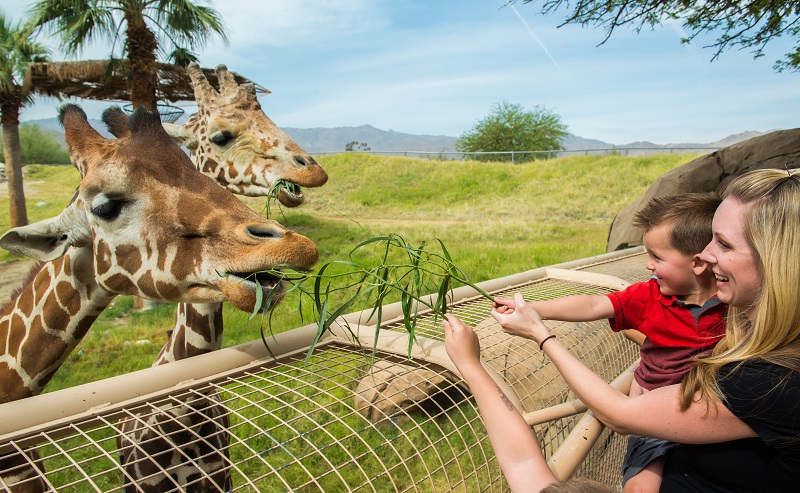 An oasis of recreation and relaxation in the heart of the Coachella Valley, Palm Desert is your destination for excitement or for sitting back and enjoying a quiet moment under our clear, blue, sun-drenched skies.
From five-star resorts to budget-friendly hotels, world-class golf to incredible art and entertainment, it's all here in Palm Desert.
With more than 150 delicious Palm Desert restaurants, you'll find plenty of places to savor a variety of taste tempting cuisines. Many restaurants feature relaxing patios, perfect for a leisurely day spent dining al fresco.
Start your shopping adventure on El Paseo – Palm Desert's world famous mile-long shopping district. Known as the "Rodeo Drive of the Desert," El Paseo's mix of more than 300 quaint shops, inspiring galleries, and high end boutiques offers all the retail therapy a savvy shopper could ask for. Looking for more? Explore the valley's only regional mall, Westfield Palm Desert, as well as our seasonal Certified Farmers Market where you will find fresh grown produce from local farms along with other seasonal and artisanal products.
Whether your passion is exercise and outdoor fun or you're just looking to relax and unwind, there's plenty to do in Palm Desert every day of the year: rejuvenating spas, refreshing pools, challenging tennis, as well as myriad scenic hiking and biking trails.
Golfers looking to perfect their swing, or just getting a handle on their short game, will find nowhere better for golf than Palm Desert and its more than two-dozen courses. Be sure to swing by award-winning Desert Willow Golf Resort. Named one of Golf Digest's "Best Places to Play," the resort's two courses feature environmentally sensitive design, as well as stunning vistas of the Coachella Valley and surrounding mountains.
Home to the Palm Springs Art Museum in Palm Desert and the McCallum Theatre, Palm Desert is the region's arts and cultural center. The Museum offers thought provoking contemporary art exhibits and a spectacular outdoor sculpture garden, while the McCallum Theatre is renowned for its high-caliber performances featuring live music, theater, dance and comedy. Must-see annual cultural events such as Fashion Week El Paseo and Food and Wine Palm Desert as well as seasonal offerings such as First Weekend Palm Desert, held November through May each year, will entice you to explore your fashionable, epicurean and artistic sides.
---
Rancho Mirage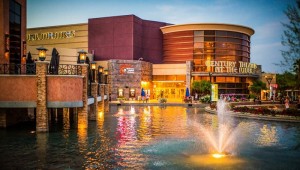 Rancho Mirage is hard to resist. Everyone from presidents and celebrities to vacationing families and shopaholics make this classy city their destination for a desert escape, and it's easy to see why.
One of Rancho Mirage's most beloved attractions is The River, an outdoor plaza filled with boutiques, restaurants and entertainment. Here, you can dine on the water, catch a free performance in the mini amphitheater or catch the latest blockbuster movie at the Century Theatres at The River.
For a look at the Coachella Valley's importance in the realms of politics and international affairs, you can spend a morning checking out Sunnylands, a historic midcentury modern residence that has hosted a long list of notable guests, such as Queen Elizabeth II, President Eisenhower, Bob Hope and Jimmy Stewart, as well as numerous summits between U.S. and international leaders. The estate is also home to a lushly landscaped garden where you can easily spend a sunny afternoon strolling through nine acres of walking paths and greenery.
Families traveling to the desert will enjoy a visit to the Children's Discovery Museum of the Desert in Rancho Mirage, where the little ones can let their imaginations run wild as they get hands-on with exhibits like replica grocery stores, an archeological dig site and rope mazes.
If you decide to make Rancho Mirage your home base for your visit to the Coachella Valley, you can rest your head at Omni Rancho Las Palmas Resort and Spa, as well as the Westin Mission Hills Resort and Spa. Both resorts offer a long list of perks that appeal to all types of visitors, from the Splashtopia water park at Rancho Las Palmas to more family fun at the Westin Mission Hills with impressive golf courses at both resorts. The recently opened Ritz-Carlton, Rancho Mirage is a luxury retreat with panoramic views of Greater Palm Springs from its hilltop perch 650 feet above the desert floor.
Or you could stay at Agua Caliente Casino Resort Spa, where the fun continues after dark both on the gaming room floor and by the outdoor pool, which hosts DJ-fueled parties every weekend. Agua Caliente's state-of-the-art concert theater, The Show, is also one of the desert's best, having hosted the likes of Jay Leno, Matchbox Twenty and Penn and Teller, to name a few.
When it comes to dining, Rancho Mirage boasts some of the desert's finest restaurant experiences, including five-star picks like Wally's Desert Turtle and Shame on the Moon. You'll also find familiar chains like The Cheesecake Factory, Fleming's Prime Steakhouse, Roy's Restaurant, P.F. Chang's and The Old Spaghetti Factory, offering plenty of dining options during your stay.
If your travels bring you to Rancho Mirage in November, you can immerse yourself in creative works by award-winning artists and the soothing sounds of live jazz at the annual Rancho Mirage Art Affaire.
But no matter what time of year you visit, you'll find the posh city of Rancho Mirage offers the makings of a lavishly relaxing desert escape all year-round.
---
Cathedral City
Visitors have discovered one of America's "Most Livable" cities, Cathedral City. It is home to many fine resorts, dining options, shopping venues, art galleries and family-centered recreational facilities. Travelers say its hometown vibe, desert flora and scenic golf courses continually draw them back while its festivals and special events make them want to stay.
Namely, the inviting space outside the City's Civic Center and Mary Pickford Theater, so reminiscent of a quintessential town square, and the brand new Festival Lawn play host to a growing list of events that includes the vividly beautiful Cathedral City Hot Air Balloon Festival, Taste of Jalisco, Cathedral City LGBT Days, Glo Run and Health Festival, the Interfusion Music Summit and numerous art shows produced by West Coasts Artists.   During the Holidays, families also enjoy the delightful "Candy Cane Lane," the annual display of seasonal lights mounted by residents of Minerva Road.
Food connoisseurs love the savory flavors of locally owned restaurants including a long list of superior Mexican restaurants featuring regional specialties of fajitas, fish tacos, quesadillas and tamales.  A plethora of other delectable restaurants include California Cuisine, American Bistro, Italian, Chinese, Argentinian, German, Japanese and so many more.  During the 'season,' visitors flock downtown to partake in gourmet food trucks parked on Sundays and featuring a variety of options for any taste.
Those seeking family fun activities find plenty at Boomers! Family Entertainment Center where offerings include miniature golf, go-karts, bumper boats, a climbing wall and a video-game arcade. Film buffs choose both Ultrastar Cinemas Mary Pickford Stadium 14 to enjoy Pure Digital Cinema™ and Desert Cinema UltraMaximum Experience to view the latest 3-D movies on the largest screen in the entire Coachella Valley.
Meanwhile, sports and health enthusiasts take particular delight in Dennis Keat Soccer Park, home to the community's popular AYSO soccer program and Desert Healthcare District's fitness track and exercise stations.  Baseball fans gravitate to Big League Dreams Sports Park while ice skaters and ice hockey players, both amateurs and Olympians, cherish Desert Ice Castle for its high quality sports venue.
Shoppers searching for unique items gravitate to the Perez Road Business District, a thriving hub of more than 200 businesses and home to the City's distinctive home improvement, design and décor shops. Similar treasures unearthed there can only be found by driving to LA's design showrooms. Some of the best high-end consignment stores in the valley are also located along East Palm Canyon Drive, as well as national stores like Target and Trader Joe's.
Cathedral City is where Art lives!  Its roots began as an artists' colony in the Cathedral Cove neighborhood, and, today, more than 70 professional artists still call Cathedral City home.  Collectors come to the city's fine art galleries located along Perez Road to furnish commercial and residential interiors in Europe, Asia and the United States.
---
Desert Hot Springs
There's something in the water in Desert Hot Springs — literally. After all, the city is best known for its natural hot- and cold-water aquifers, which boast amazing healing properties thanks to their high mineral content. With dozens of local spas offering natural mineral water pools, there's nothing stopping you from soaking up the healing benefits of these waters on your next trip to Greater Palm Springs.
Spa days in Desert Hot Springs are all about tranquility, wellness and relaxation.  Most of the local spas offer several mineral water pools with varying temperatures that seem like they were plucked right from the "Goldilocks" storybook: hot, cold and just right. In addition to the thermal options, there's a range of experiences available as well, from establishments where the therapeutic waters are the focal point to more plush environs where you can pair a soak with a massage, facial and more.
Each spa in Desert Hot Springs has a personality all of its own, too, making it easy to find a getaway that perfectly fits your needs. Wellness retreats, juice cleanses and yoga classes are just a few of the offerings you'll find here. Some spas focus solely on mineral water pools, while others offer massages, facials and other treatments that both incorporate and complement the mineral waters. If there's a special furry friend in your life, you'll even find a dog spa where your canine pal is welcome to join you for a relaxing weekend.
The desert's natural springs were first discovered by pioneer Cabot Yerxa, who found both hot- and cold-water aquifers in a spot now known as Miracle Hill. His impressive 35-room homestead, Cabot's Pueblo Museum, is a Desert Hot Springs must-visit to experience Native American history and culture through pottery, statues and other artifacts.
Another must-visit while in town? The hiking trails, larger-than-life boulders and vast vistas of Joshua Tree National Park, about a 45-minute drive from Desert Hot Springs. Here, you can spend a day exploring the desert in its most striking natural setting.
If you're ready to rejuvenate your body and mind, it's the perfect time to slip into the soothing waters of Desert Hot Springs.
---
Indio
While it's undeniable that the inaugural Coachella Valley Music & Arts Festival put the vibrant city of Indio on the world stage in 1999, there's so much more to do and see than listen to the hottest bands on the planet in Greater Palm Springs' exciting and most populous oasis.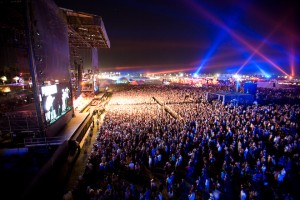 First off, there's the Stagecoach country music festival, which shares the same setting as "Coachella" on the lush grounds of the Empire Polo Club (also the home of thrilling winter polo matches, which are open to spectators and tailgaters for free). These two musical extravaganzas – alongside other popular events such as the Riverside County Fair and National Date Festival, Southwest Arts Festival, Palm Springs Kennel Club Dog Show, Polo & Wine Festival, and International Tamale Festival – earned Indio its nickname of City of Festivalsand draw more than one million visitors annually.
Other beloved attractions include Fantasy Springs Resort Casino, the Coachella Valley History Museum and its new Date Museum, theCoachella Valley Wild Bird Center, and the Cabazon Cultural Museum.
Home to a flourishing arts community, the Indio Chamber of Commerce offers self-guided tours of the city's many murals depicting Indio's history and its people. The innovative S.C.R.A.P. Gallery promotes environmental conservation and creativity through recycling discarded materials into art projects. And the Indio Performing Arts Center (IPAC), a sensational 22,000 square-foot complex in downtown Indio entertains audiences with culturally diverse entertainment in four theatres, as well as hosting acting and improvisational workshops for youth. Several public art pieces are springing up from the ground and Greater Palm Springs' largest permanent television and film "diorama/green screen" has been built in downtown Indio. www.coachellavalleyartcenter.com.
Savor casual dining and entertainment at the wildly popular Jackalope Ranch, Neil's Lounge, the Empire Polo Club's Tack Room and Date Shed, Shield's Date Garden and several family-owned restaurants that serve up some the best Mexican food in Greater Palm Springs.
---
Coachella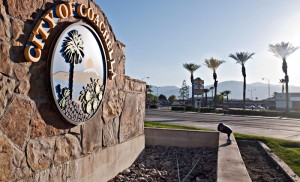 The word "Coachella" is probably one of the most recognizable when it comes to Greater Palm Springs, thanks largely in part to the annual music and arts festival bearing the same name. But beyond the Coachella Music and Arts Festival (which is actually held in the neighboring city of Indio), Coachella embodies the Hispanic roots of the Coachella Valley, from cultural fiestas celebrating holidays like Mexican Independence Day to the local restaurants serving up some of the best Mexican fare to be found in the desert.
Locally owned restaurants like Jalisco's, Plaza Garibaldi and Aldo's are unbeatable when it comes to authentic Mexican dishes like carne asada tacos, al pastor tortas and hot bowls of menudo. Most of the local restaurants make everything from tortillas to salsa from scratch, which makes the food that much better.
If you're in the mood for a burger, you won't want to miss Andy's No. 5, which is known for its generous portions, juicy burgers and hearty breakfast burritos.
Throughout the year, you'll find the streets of downtown Coachella and the Vietnam Veteran's Memorial Park bursting with fiestas in celebration of Mexican holidays like Cinco de Mayo.
And any time of year, you can put your luck to the test at either of Coachella's two casinos: Spotlight 29 and Augustine Casino. Spotlight 29 offers 2,000 slot machines, table games, a poker room and ongoing tournaments. The casino is also known for its free Friday tribute concerts (held all year long in its air-conditioned Spotlight 29 Showroom) and its premium entertainment, which has included performers like En Vogue, Bill Burr and Anjelah Johnson.
Augustine Casino is another local favorite for gaming, thanks to its arsenal of slot machines and table games. Another reason locals love Augustine Casino is for its impressive nightly buffet. On Saturday nights, Augustine ups the ante with an all-you-can-eat spread of lobster tail, crab legs, prime rib, leg of lamb and filet mignon. (Read more about casinos in the Coachella Valley)
Whether you want to dig into the desert's Hispanic culture or spend the night with Lady Luck at your side, the east valley city of Coachella has you covered.